Saint Seiya Saintia Sho: Chapter 10
Chapter 10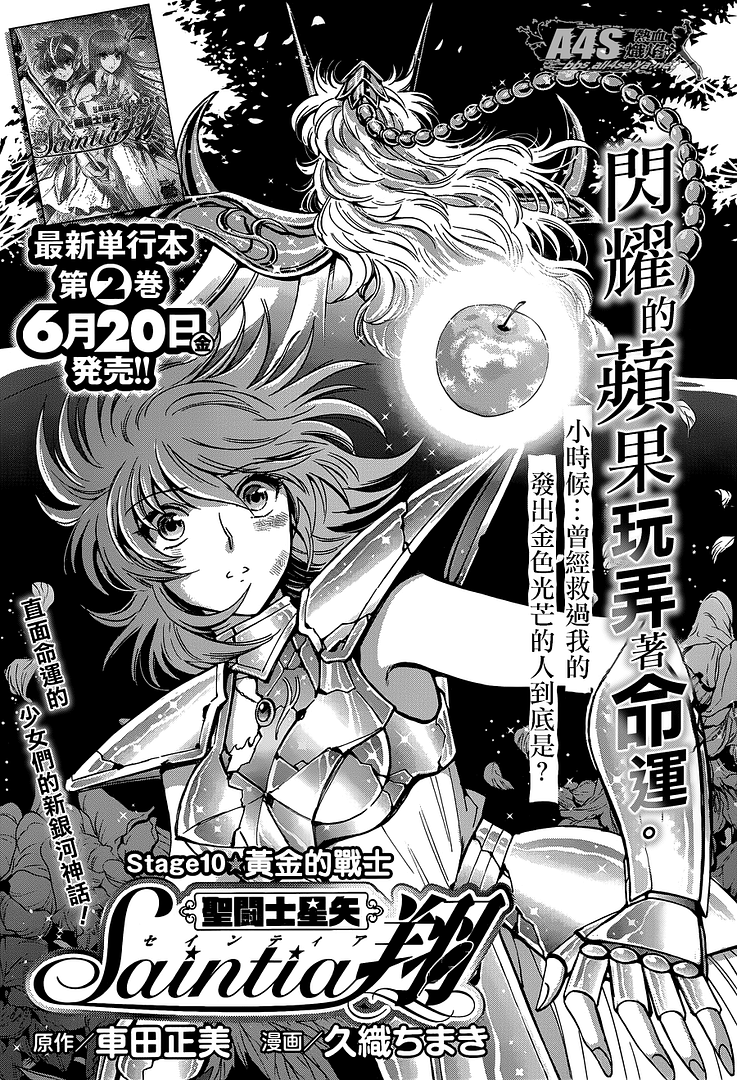 Golden Warrior
In the night sky, Mayura observes two stars away, realizing their direction; the Garden of Eden. The woman knows that mythical place is and what it hides and wonders if the winds of destiny is changing.
Meanwhile, Shoko wakes up in a dark cave blocked by many threads of silk. Confused, she tries to escape, but a man's firm, is Phonos driade murder. Phonos informs her of her imprisoned beneath the palace of Eris and be interested in her as it once used to house the spirit of his mother.
Shoko, annoyed by him, tries to hit him with Phonos who are surprised that you can still move within its Paralyse Silk, assuming that it is thanks to the protection of the cloth. But reactivating the technique, the cloth is damaged and Shoko begins to feel weak. Taking advantage of this, Phonos the taste, anticipating the moment when he is eating now close to her, because that's what you want to do, eat Shoko!
A golden light stops him; Milo of Scorpio is rushed to the aid of Shoko!
Milo is surprised to find there a Saintia, was rushed by following a trail of cosmic thinking that would lead to Eris, not by a Saintia. Phonos recognizes him, is the man who five years earlier prevented the revival of his mother Eris, and also Shoko remember him as the man who saved her with her sister.
Glad to avenge potersene, Phonos attacks him, but Milo blocks the attack with a single finger, presenting his Scarlet Needle, which affects the nerve centers procuring excruciating pain. Phonos began to accuse him, but has no intention of surrendering, and attacks with his Despaired Bite! But Milo contrasts easily eliminating the attack with subsequent stings.
Removed the enemy, Milo is getting ready to leave, but Shoko asks him to take it with him to save his sister. Milo, on the contrary, the intimate to leave, because he is there on a mission, a mission with the aim of eliminating Eris and do not want to inconvenience!
At the temple, Ate collects energy from Eris, when a man is to inform the Phonos defeat at the hands of a gold saint. Ate is not surprised by this, but reacts angrily when the man shows concerned about the strength of the Golden Knight. Ate so chides his Ghost Saint, Rigel former Silver Saint of the Orion! experiencing a remnant knight in him, and then left to deal with the gold.
Still in the den, Shoko also welcomes Mii, she too came to his rescue, but instead of Mii, Shoko not want to leave that place, but instead to follow the Golden Knight worried because that could lead to completely fulfill its mission , thus killing her sister!
Meanwhile, the temple, Milo has finally arrived, greeted by Ate, who will win between the two?